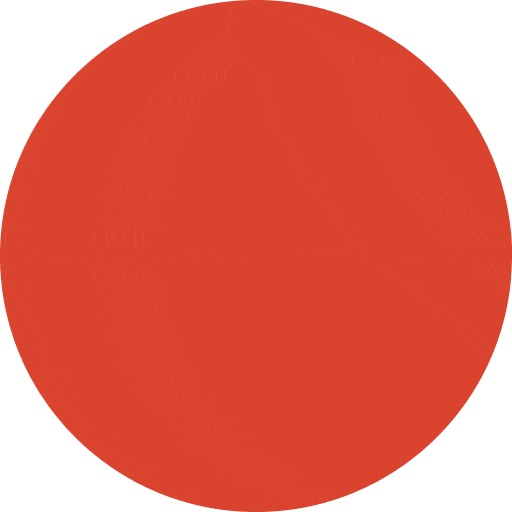 Sign Up NOW - Lifetime Access
Letter From Charlie

---------------------------
Hello Folks!
I was drawn into trading because I fell in love with the game of growing your account and the lifestyle of making a few trades a day and calling that "work." However, just like any endeavor worth taking - there are many obstacles in the pathway.

✅When I first started trading, I quickly became overwhelmed & intimidated by the massive amount of information and apparent opportunities at my disposal. I knew that the answers were out there and felt the intense urge to act immediately and start making progress.

🧗🏻‍♂️But to my dismay, working through traditional trading advice made me feel that trading was just too complicated and that it simply wasn't for me. To be honest, I really wasn't sure which end was up. However, I found that through consistent effort and most importantly - my own trial & error - that account growth and skill development was possible. Yet, this process took time. A long time..(I'm a slow learner).

💡I've created ZipTraderU to help you speed up that learning curve. I will take you step-by-step through the entire process and continuously test you along the way. I will also personally work with you in our extremely helpful & private tutoring chat. I am a huge believer in education and a huge believer in growing with the live help of your coach & peers.

📚An Education can take you far, but you are going to need to put in the work to practice and reinforce the material. Thus we focus on taking action. This course has been designed to provide clear and actionable steps that you can take, but also consistently reinforces the material with quizzes and prompts to carry forward in the market.

🔎Since the beginning, ZipTrader has been focused on getting results and simplifying the methods that lead to those results. We are focused on giving you the tools to GROW your account and eventually NO LONGER NEED US. We believe that self sufficiency is the ultimate goal of any good trading education.
🎓ZipTraderU is founded on the idea and understanding that a great trading education should focus on realizable goals laid out in a digestible and actionable process.

🚨The truth is, everything you need to know to develop your skillset can be attained by your own extensive effort, time, and through trial and error. The goal of ZipTraderU (and our free YouTube content) has always been to make that process easier and more efficient. We've always had a less is more mentality that presents and simplifies concepts without watering them down. We focus on skillsets with the highest return instead of bombarding you with abstractions. We also believe in giving you the ability to ask questions and have them answered while also giving you the opportunity to see how strategies apply to the most recent trades. Our goal with this course is for you to have a clear roadmap for account growth and a healthy environment to work hard, test yourself, and ask for help if needed.
⚠️We DO NOT believe in telling our members what to trade & when to buy and sell. We aim for creating self sufficient traders. However, we do present "discovery" trade targets for finding some of our favorite opportunities. But it is up to you to apply your knowledge.

---
Upon JOINING ZipTraderU, You Will Get Immediate (And LIFETIME) Access To...
✅6+ Hours of Actionable Step by Step Videos & 10+ Written Tutorials
✅ZipTraderU Private "Tutoring" Chat (We Reserve Right To Revoke Chat Privileges)
✅VIP Access to WORK with Charlie on Tutoring Chat (Direct Message 24/7)

✅Discover Trades with Charlie's Morning Briefings.
---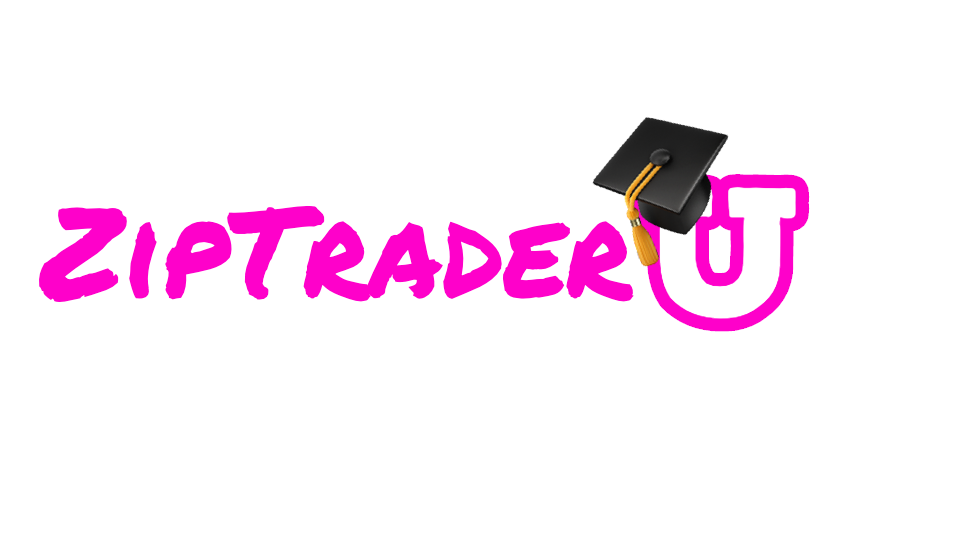 🎓What Students We Want..
Our objective is to help you grow your account. In order for this to be possible, we expect students that are willing to do the following.
✅Focus On CONSISTENCY and understand that trading is skill that takes both time and effort to develop.
📓Take an ACTIVE Approach To LEARNING by Answering ALL Quiz & Practice Exercises
👨🏻‍🏫ACTIVELY use our PRIVATE group to have their questions answered & concepts reinforced
🥽 Practice a CONSERVATIVE style of trading that prioritizes good practices that lead to long term gains over short term profits.
Some Things We Want You To Know About This Course:

✅You Don't Need ANY prior experience (Beginner Friendly)
🏃🏻‍♂️The Course is Completely Self-Paced (Take Your Time!)
📆Constructed For Variable Position Focuses (Day & Swing Traders)
💡Suitable For Anyone World-Wide
📈What Do Our ZipTraders Say?🏆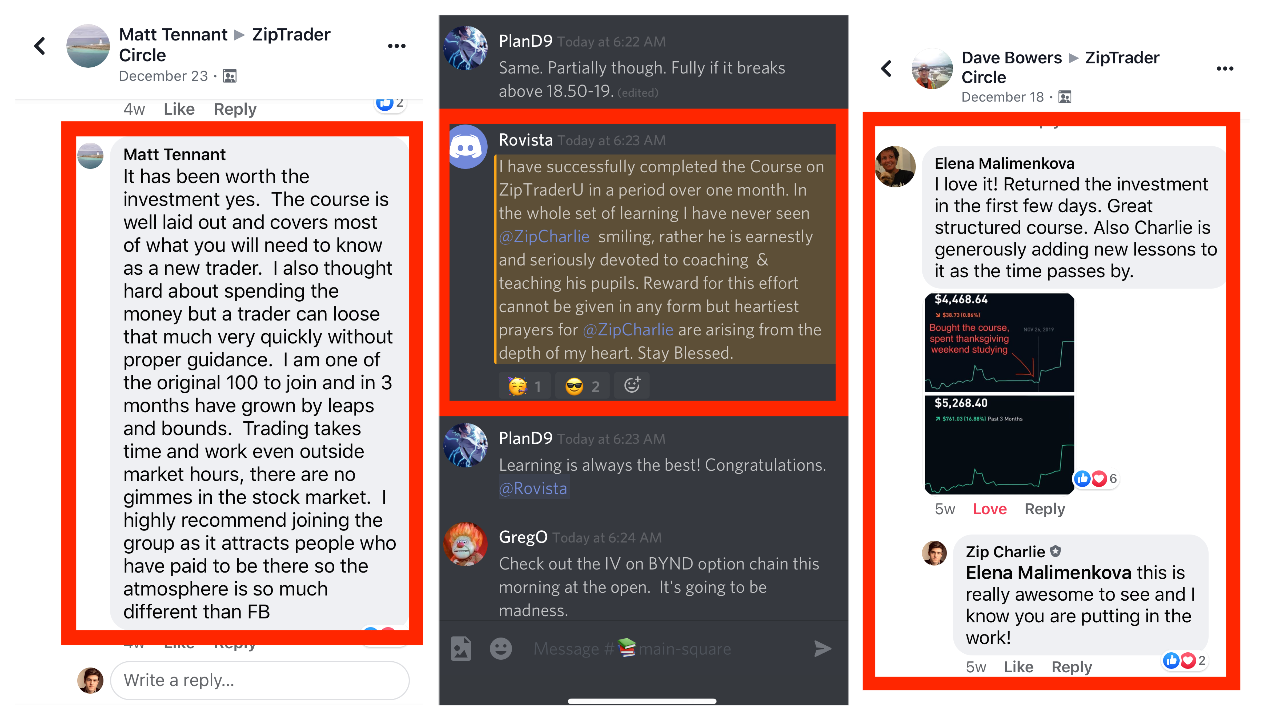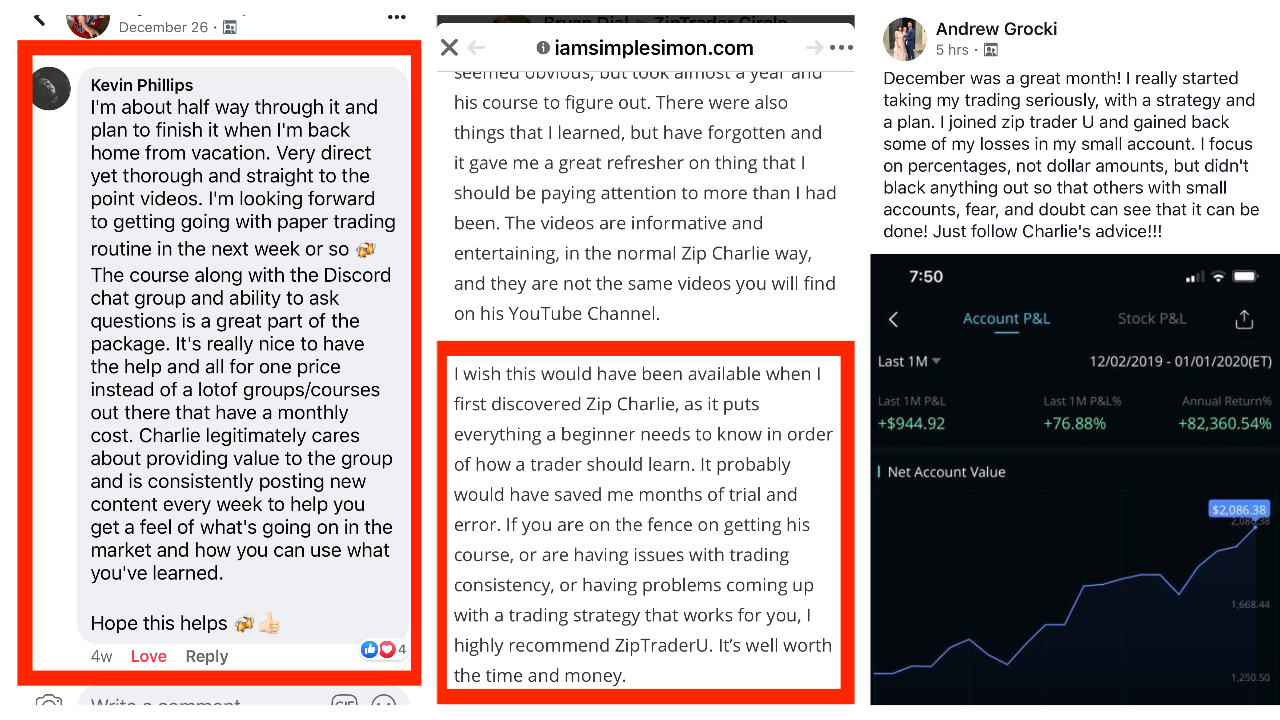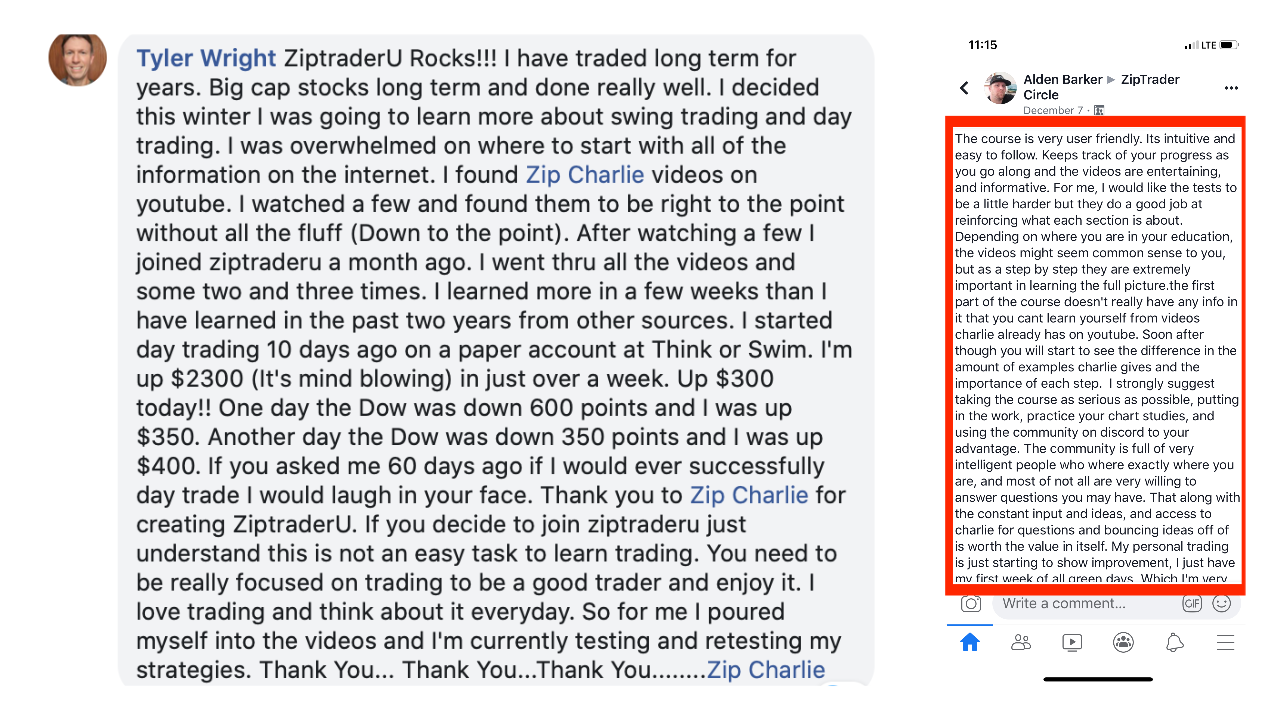 👇What's INSIDE?👇
As A ZipTraderU Student, You Will:
🔰Learn how to IMMEDIATELY (but slowly) start building your account
🔰Discover Opportunities thanks to Charlie's Morning Briefings
🔰Study how to utilize DIFFERENT types of trades and capital at the same time to expedite growth
🔰Grasp how CONSISTENT & SMALL gains make more money over the long run
🔰Absorb how to trade catalysts such as FDA approvals, Earnings, & News Releases
🔰Be Competent in PROTECTING your capital and MINIMIZING your downside
🔰Become SELF SUFFICIENT and learn to identify opportunities on your own
❓Got A QUESTION about ZipTraderU? Instant Message Charlie!

Course Curriculum
Welcome!
Available in days
days after you enroll
Before You Start
Available in days
days after you enroll
Using Your Broker
Available in days
days after you enroll
Frequently Asked Questions
When does the course start and finish?
The course starts now and never ends! It is a completely self-paced online course - you decide when you start and when you finish. However, we suggest taking at least three-four weeks to really soak in the material.
How long do I have access to the course?
Lifetime Access!
Where Can I Ask Questions?
All students of ZipTraderU have access to our Private "Tutoring" group where they can ask any questions. If you have urgent specific questions about the course that need to be answered you can email Charlie at
[email protected]
What Does "Direct Message Charlie 24/7" Mean?
We want you to ask questions to help with your growth. You will have the ability to direct message him 24/7, and he will be answering questions regarding the growth of your account during the times he's on daily.
What are Charlie's trade targets/morning briefings?
Charlie will be giving all ZipTraderU members trade targets (through 2022) daily as part of our ZipTraderU chat. These are only the VERY best opportunities that he sees value in and come in the form of daily morning briefings. These ARE NOT meant as trading advice but rather as a way to learn and apply concepts in the course. This is in addition to the NIGHTLY watchlists that ZipTrader posts free across all platforms.
Is ZipTraderU content only available on ZipTraderU?
Yes, the content was made exclusively for the program and is not available on YouTube or any other platform
What is your refund policy?
We DO NOT allow refunds due to the upkeep of our private chat and strategies. No exceptions. We also have TONS of free content on Youtube for folks unsure if it's worth it.
Disclaimer
I am not a financial advisor. Please take everything in this course for entertainment & educational purposes only. Nothing in this course should be seen as financial advice. Government agencies warn that you should never consider buying or selling investments without at least consulting a financial advisor first. There are risks involved with investing in the stock market, you can lose your entire account (and more if you are shorting). So please consult a registered professional and make sure one is always present before ever approaching any market decisions. All of ZipTrader & ZipTraderU, our trades, strategies, and news coverage are based on our opinions alone and are only for entertainment purposes. You should not take any of this information as guidance for buying or selling any type of investment or security. I am not a financial advisor and anything that I say should not be seen as financial advice. I am only sharing my biased opinion based off of speculation and personal experience. An individual trader's results may not be typical and may vary from person to person. It is important to keep in mind that there are risks associated with investing in the stock market and that one can lose all of their investment. Thus, trades should not be based on the opinions of others but by your own research and due diligence.